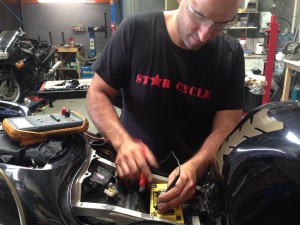 Just like any other components on the motorcycle needs to be serviced so as the electrical system. At Star Cycle we specialize in electrical repairs which include:
The charging system
The light system
The light switches and control
Stators
The battery
The voltage
The Regulator rectifier
If you can't come to us, we can do the repair at your home or workplace, or we can tow your motorcycle to our workshop.
Were available 24/7 days a week
Call us today on: 0403-666-613
Feb 8, 2018
GREAT SERVICE
Kobi is very helpful and give good, honest service.Highly recommended!!!!!!!!!
Jan 22, 2018
Great service
Kobi provides an honest and great service. From the day my motorbike was towed to after it was fixed, Kobi was extremely helpful & tries... view more
Jan 21, 2018
Honest Value Service
Outstanding Value and Honest Service and Advice. Always impressed with each service, wouldn't go anywhere else. Thanks again Kobi.