Mobile Motorcycle Inspection Service
On-site- Motorbike Service & Repair
Road assist 24/7 + Towing
Pick up & drop off available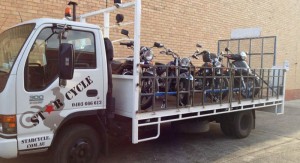 With a Motorbike Safety Certificate you can be sure that your motorcycle is safe for you and your family.
You also need a Safety Certificate so you can sell your Motorbike as a registered vehicle. You must have a valid RWC throughout the sale process.
If you can't come to us, we can tow your motorcycle to our workshop.
Were available 24/7 days a week
Call us today on: 0403-666-613
Jul 2, 2017
Great service
8am on an almost freezing Sunday morning and Kobi turns up on time to help me out with my flat battery. His business is all about solving motorcycle... view more
Jun 18, 2017
Thanks for fitting me in to complete the RWC Kobi. Always willing to help and always at an honest and unbeatable price!
Jun 6, 2017
Took my Piaggio X8 400 to Star with concerns over battery charging. Kobi assured me the electrical system was perfect, also topped up the oil... view more