Mobile Motorcycle Inspection Service
On-site- Motorbike Service & Repair
Road assist 24/7 + Towing
Pick up & drop off available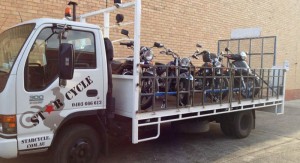 With a Motorbike Safety Certificate you can be sure that your motorcycle is safe for you and your family.
You also need a Safety Certificate so you can sell your Motorbike as a registered vehicle. You must have a valid RWC throughout the sale process.
If you can't come to us, we can tow your motorcycle to our workshop.
Were available 24/7 days a week
Call us today on: 0403-666-613
Feb 8, 2018
GREAT SERVICE
Kobi is very helpful and give good, honest service.Highly recommended!!!!!!!!!
Jan 22, 2018
Great service
Kobi provides an honest and great service. From the day my motorbike was towed to after it was fixed, Kobi was extremely helpful & tries... view more
Jan 21, 2018
Honest Value Service
Outstanding Value and Honest Service and Advice. Always impressed with each service, wouldn't go anywhere else. Thanks again Kobi.